Saud A. Sadiq, MD, FAAN is the founder/director of the International Multiple Sclerosis Management Practice. He is also the Director and Chief Research Scientist of the Tisch MS Research Center of New York. These two institutions opened their doors together in 2006 and constitute the largest MS Center in the world.
Dr. Sadiq, a native of Kenya, is a board-certified neurologist who completed medical school at the University of Nairobi and residency training in Internal Medicine in Kenya and in England. He then completed a residency in Neurology at the University of Texas, where he was elected to the Alpha Omega Alpha Honor Medical Society. From 1988-91, he trained as a research fellow funded by a Dana Fellowship award and an MDA Fellowship in Neuroimmunology at Columbia University in New York. From 1992-98, he was Assistant Professor of Neurology at the Neurological Institute at Columbia University, where he served as Associate Director of the MS Clinical Program. In 1998, he became Director of the MS Research and Treatment Center at St. Luke's-Roosevelt Hospital in New York. From 2000-2005, he served as Chairman of the Department of Neurology at St. Luke's-Roosevelt, with faculty appointments at Columbia University and Albert Einstein College of Medicine.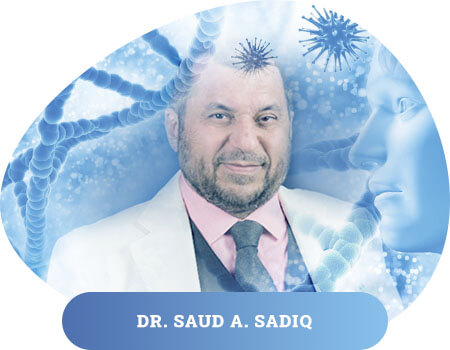 His research interests are focused on multiple sclerosis and include: investigating the intrathecal oligoclonal B-cell response, exploring the mechanisms of disease progression, biomarker development, and applying stem cell biology to clinical use. Clinically, Dr. Sadiq is an internationally acknowledged expert in multiple sclerosis, receiving numerous awards for his research and clinical activities. He has been an invited guest speaker nationally and internationally at numerous meetings and has more than 100 publications. He is among a select few MS specialists who direct a full-time clinical practice combined with a productive laboratory-based research program.
Included in the following Castle Connolly publications and/or partner publications:
America's Top Doctors: 14th Edition, 13th Edition
America's Top Doctors: 2019, 2018, 2017, 2016
Top Doctors: New York Metro Area: 18th Edition, 17th Edition, 16th Edition, 15th Edition, 14th Edition
Top Doctors New York Metro Area: 2019, 2018, 2017, 2016
New York Magazine: Best Doctors Issue: 2019, 2018, 2017, 2016, 2014, 2013, 1999 (Hall of Fame Issue), 1996
It was time for a change
"At some point I realized the path I was on was not the best for my type A personality, where I must be the captain of my own destiny. While my neurologist was smart and qualified, he was a generalist. He had some MS patients, but it was not the focus of his practice and ultimately he was not proactively addressing my condition. It was at that point that I sought a neurologist who was a specialist in MS and whose practice was specific to and focused on MS. I did my research, and found Dr. Sadiq. Dr. Sadiq was a game changer for me. Before seeing Dr. Sadiq, I wasn't necessarily convinced that even I had MS, after all I only had the one lesion. So technically I had 'singular' sclerosis. I was living in semi-denial. He explained that if it walks like a duck and talks like a duck, it's a duck! He said we can be proactive and treat me for MS or we can wait for another episode, one that could possibly leave me with some degree of disability. We chose the former. I went on treatment and have been disease activity free for 16 years. Dr. Sadiq's guidance and expertise allowed me to feel I was taking back control of my life, and with his support and friendship not to mention his wonderful team, I haven't looked back. My anxiety, panic and constant fear are long since gone, and I now live my life with the confidence and expectation of a healthy and full life. I am eternally grateful to Dr. Sadiq and the IMSMP."
Articles